Features
Here are some core feature of the Prayer Times
Alarm Tones/Notifications
Beautiful Azan Voices and standard tones to set as Alarm Notifications.
Ramadan Calendar
Ramadan Calendar with Sehar and Iftaar timings.
Prayer Times
Accurate prayer timed based on your current location or selected settings.
Time Chart
Time Chart shows the prayer timings of the whole year.
Prayer Alerts
You will be notified with the audio notification for Azaan when the time of any prayer starts.
Quranic Scripts
Different Quranic Scripts options; Simple, Indo-Pak and Uthmani.
Qibla Compass
Shows the right Qibla direction of any location.
Asma ul Husna
99 names of Allah SWT recitation with video.
Widgets
Widget support for Home Screen showing the remaining time for current prayer.
Nearby Mosques
Search nearby mosques location around you.
Daily Life Duas
Read and learn Duas from a collection of 50+ Daily Life Duas with complete transliteration and translation
Duas from Quran
40 Rabbana Duas from Quran with references, transliteration and translation.
World Prayer Times
Tap on any location from the map and get the Prayer Timings of selected place.
Download The App
The app is available on App Store for iPhone and iPad and on Google Play Store for Android phones as well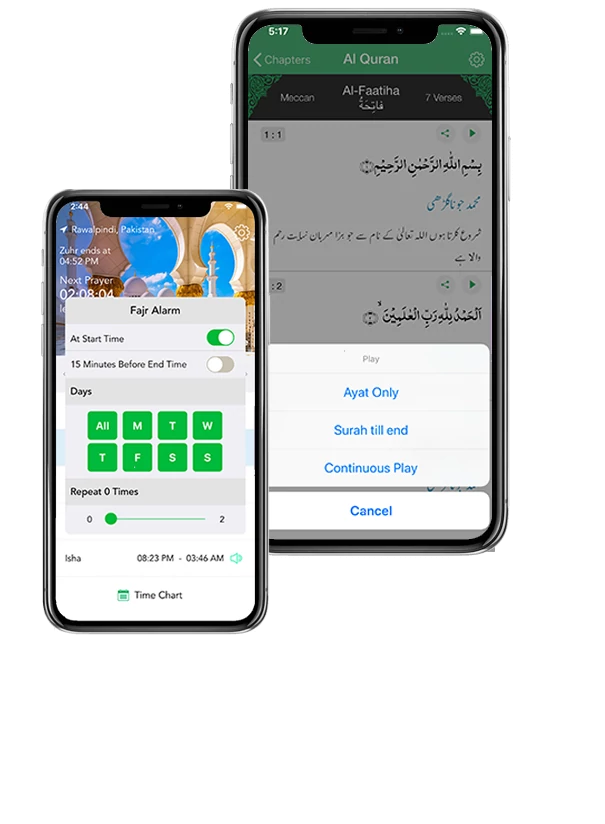 Want to Contact us?
Your suggestions, recommendations and improvement ideas are valuable to us. Please fill the form below to send us your feedback.